Key Terms and Phrases for Describing Parker Pens
Use this checklist to ensure you are using the correct terms and phrases when describing a Parker Pen.
YEAR or ERA
Be sure to bookmark our guide to dating Parker Pens Read it now (click here)
STAINLESS STEEL OR LUSTRALOY?
Do you know the difference? Lustraloy looks a bit like frosted nickel. Stainless Steel is bright and shiny, and might also better be described as Chrome (again, be careful to use the proper term fo the cap metal!)
PEN TYPE
It is a BALLPOINT not a BALL POINT. Don't call a fountain pen a ballpoint pen, and visa versa.
BOX AND PAPERWORK
If you have the box, certificate of authenticity, and/or brochue, a note to that effect must be included in the general description, and the words IN BOX must be in the TITLE.
BARREL STAMP TEXT (Not a TANG stamp, but just as important)
Be sure to describe every little bit of text every where on the pen, barrel, clasp ring, cap, clip, cartridge, nib! Yes, it matters unless you want the pen to sell cheap.
THE CLIP
The clip is what holds the pen in your pocket. Describe the clip on the cap if there is one. On Parkers, is it an ARROW CLIP? A BLUE DIAMOND WITH ARROW CLIP?
BARREL MATERIAL
What is the type of barrel material, plastic, wood, sterling silver, gold?
CAP MATERIAL
What is the type of cap material, stainless steel, sterling silver, solid 14K gold, gold-filled, plastic?
NIB MATERIAL
What is the type of nib material, 14K GOLD, 18K GOLD, it is single color, duo-toned, tri-toned?
FORGET THE JEWEL LOOK LIKE A FOOL
The little piece of plastic or metal at the tip of the cap (and sometimes on the end of the barrel) is called the jewel (at least on Parker pens that's what it is called). When the pen has a jewel on the cap AND the barrel, it is DOUBLE JEWELED. Double Jeweled pens are earlier and rarer, and the term DOUBLE JEWEL or DJ should be in the TITLE of your description if it will fit (if not, it's ok).

Aluminum or metal jewels aer rare and early. ALL first year (1941) USA Parker 51s have aluminum jewels.
OVERALL LENGTH
What is the length in inches of the pen when capped, tip to tip?
OTHER IMPORTANT NOTES
Limited Edition (1 of nnn)
Cap Etch

COLOR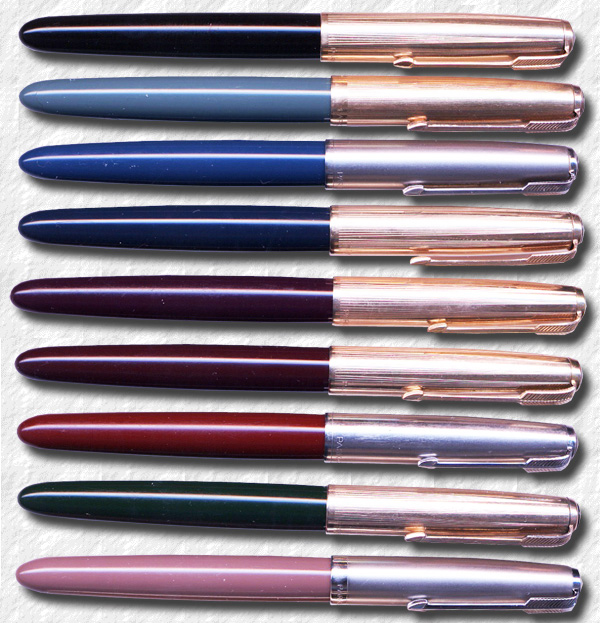 Parker Pen color is a science unto itself. Basically, don't call the barrel color CHOCOLATE if it is actually BUCKSKIN BEIGE! This is critical to appearing to know what you are talking about. Newbies call it the wrong color and the pros LTAO.
1941 to 1948 years Cordovan Brown (1941-1948) ######################## Buckskin Beige (1941-1948) ######################## Yellowstone (aka Mustard) (1941-1948) ######################## Nassau Green (1941-1948) ######################## Cedar Blue (1941-1948) ######################## Dove Gray (1941-1948) ######################## India Black (1941-1948) ######################## 1948 to 1972 years Burgundy (1948-1972) ######################## Cocoa (1948-1972) ######################## Plum (1948-1972) ######################## Teal Blue (1948-1972) ######################## Midnight Blue (1948-1972) ######################## Forest Green(1948-1972) ######################## Navy Gray (1948-1972) ######################## Black (1948-1972) ########################